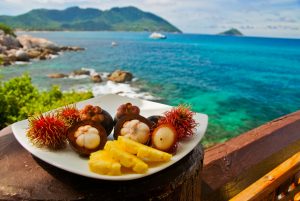 This has got to be the ultimate in restaurant dining experiences. Not only are you able to taste foods from a different culture (if you are vacationing somewhere other than North America), but it is also the time to relax and allow yourself to be served and pampered in style for the duration of your vacation. This is one of the reasons why people take vacations!! Restaurant dining is one of the core experiences that make a trip exciting, relaxing, and memorable each and every time. This is what vacations are intended to be: a reward for working hard the rest of the year.
Dining in the Caribbean
One of the most amazing things about dining in a tropical country is being able to enjoy an evening under the stars. There is something so magical about sitting in an open-air restaurant beneath the night sky in a lush and beautiful location while enjoying cuisine served with nothing less than excellence in mind. Many of the high-end resorts are quite large so many will have multiple restaurants on the grounds that will serve specific types of food. Each one is meant to impress, to satisfy, and to keep tourists returning. To experience this type of dining while on vacation, in addition to the upscale accommodation, entertainment, white beaches, and upscale amenities to choose from will always keep people coming back. Breakfast and lunch consist of incredible buffets, usually adorned with a large ice sculpture and food items that we don't see in our own high-end restaurants. The fruit and even the meat tastes much better not only because vacationers are more relaxed when they dine, but because the foods in these countries are not processed and are served fresh.
The cultural difference is apparent but it is actually enjoyable and part of the overall vacation experience. To be able to speak a little bit of the language of the place you are visiting is very much appreciated by the staff who are usually permanent residents and English is not their first language. These resorts pride themselves on having their staff trained so that they have a good command of the English language to be able to converse with visitors to their country or island.
Dining in Europe
There are so many exquisite locations in Europe to dine out that there are too many to even mention. Not only is the food expertly prepared and can be referred to as indescribably delicious, but some of the restaurant locations are both historic and some are extremely unique. One of the most beautiful locations is literally a restaurant inside of a cave in Italy. This is an experience of a lifetime. There are historic buildings in Edinburgh, London, Budapest, Prague, Warsaw, and Berlin to name just a few. They all offer something unique and incredible. To be able to travel to Europe and to experience the best in restaurant dining is to say that you have lived well!