Decorating a restaurant is rarely an easy task, and choosing the best flooring can be one of the more tricky aspects. Should you go for a solid hardwood floor or a thick textured carpet? Should you use rugs in your restaurant? If you need some help with choosing the right flooring for your restaurant business, then look no further, as here we will give you some straightforward advice for selecting the perfect designs.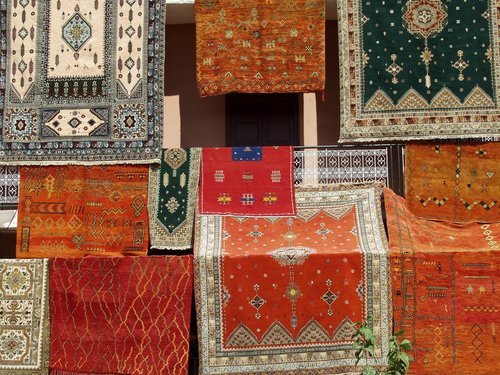 Solid Floor or Carpet?
This is the question that's asked by everyone who's decorating a space, regardless of the business type and even in home settings. There isn't really a one-size fits all approach, as different types of flooring will be best tailored for individual scenarios. For example, suppose you're trying to decide which floor is best to use for a restaurant. In that case, you may find it more common for solid options to be chosen over carpets, particularly around bar areas of a restaurant where drinks are more likely to be spilt. Carpets are great as they come in so many colours and styles. They bring a warm texture to a space that can create a homely and welcoming atmosphere, hence why you'll notice many traditional pubs opting for carpets. For practicality in a restaurant, solid flooring such as vinyl, tiles or hardwood is ideal for being easier to clean and maintain than carpets and being a lot less susceptible to stains from dropped food and spilt drinks.
Restaurants can suffer from plenty of accidents with food dropping on the floor or glasses being knocked over, so the straightforward cleaning of solid floors through wiping them with a mop is handy. Solid floors are available in many styles, too, such as different woods and materials and vinyl or tile options coming in many colours and patterns. But, of course, it all depends on the rest of your restaurant's decoration and the atmosphere you aim to create. Solid floor surfaces provide a more sleek and clean vibe. At the same time, carpets are marvellous for adding warmth and a greater sense of being cosy at home.
Rugs
Rugs are an additional aspect of floor decoration that any restaurant owner should consider. If you've chosen a solid flooring due to the practicality of being easy to clean but would still like to add some warm texture and create a more cosy vibe, then getting some sisal rugs from Trend Carpet can be an excellent solution. Rugs come in a great range of sizes, shapes and designs, so a rug indeed can be found that's perfect for any restaurant. The added benefit of rugs is also the increase in practicality compared to full carpeting, with it being easy to wash rugs when they need a clean and be possible to pick them up quickly and replace them if needed. Rugs can add the extra touch you're looking for while being more affordable overall than full carpeting when it becomes worn and needs replacing. Even if you've chosen carpeting over a solid floor, rugs are a convenient way of adding different patterns and colours to your restaurant. They can even become a talking point among your diners.
Overall, consider what you're hoping to achieve with your restaurant design when you're trying to select the appropriate flooring, taking into account the appealing design as well as the practicality of the flooring for your hospitality business environment.